TRANQUIL MOORING
While on the island of Molokai during a family trip to ride the mules down to Kalaupapa. I was exploring the beach in Kaunakakai with my camera early in the morning near our hotel. The ocean was perfectly calm and I was absolutely mesmerized by the glassy conditions reflecting clouds all the way out to the horizon where an outside reef kept any waves from disturbing the surreal scene. I came across this boat tethered just off the beach and I knew I had the focal point for a unique image. You just don't see such glassy calm ocean where I grew up on Oahu.
I didn't record my settings, but the exposure on high contrast Kodachrome slide film was a perfect match for the low contrast, high key subject matter. The tones are very subtle and delicate and even a slight mistake here would have blown out the subtle gradations. Thankfully my exposure was right on! I was only able to get one good print from the slide though, because reproducing that range of tones from slide film onto paper prints was very inconsistent in those days. It wasn't until I rediscovered the original slide in this modern age of digital photographic reproduction that I was able to get an accurate digital file from which this image was made. The original poster size print, custom enlarged and processed with good old fashioned chemistry (that is sadly fading with age) hangs in my parents home.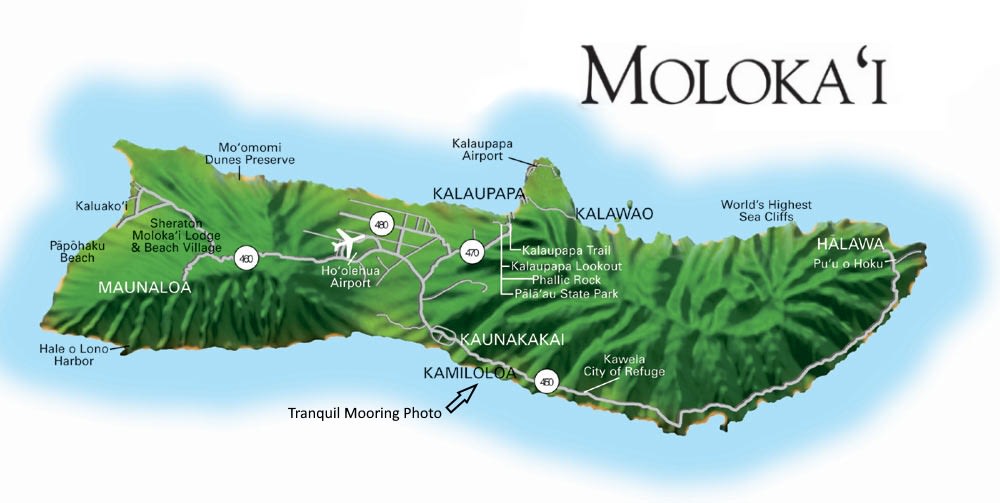 Later on this same day we took the mules down to Kalaupapa, the small community at the base of sheer cliffs on the north side of Moloka'i that from 1866 until 1969 was a leper colony, and is now a Historical National Park. It poured rain in torrents on the trip down, but cleared up once we reached the bottom, revealing spectacular waterfall after waterfall all along the 3 thousand foot drop! Thankfully the mules were reliably sure footed in the mud that was streaming down the trail with us. As the map states this coast boasts some of the highest sea cliffs on the planet!