ROAD TO HANA - A bit of Heaven and Hell
Haleakala Nat'l Park extends to the ocean at Ohe'o gulch, a short ways past Hana. There you'll find a friendly hike that begins at what I grew up knowing as "Seven Sacred Pools." These are big pools you can swim in, in a really gorgeous setting, but due to a flash flooding threat were off limits on this day. That was a bit of a let down for me because my kid's were seeing this for the first time, and I hoped they would enjoy the beauty and adventure I remembered from my youth.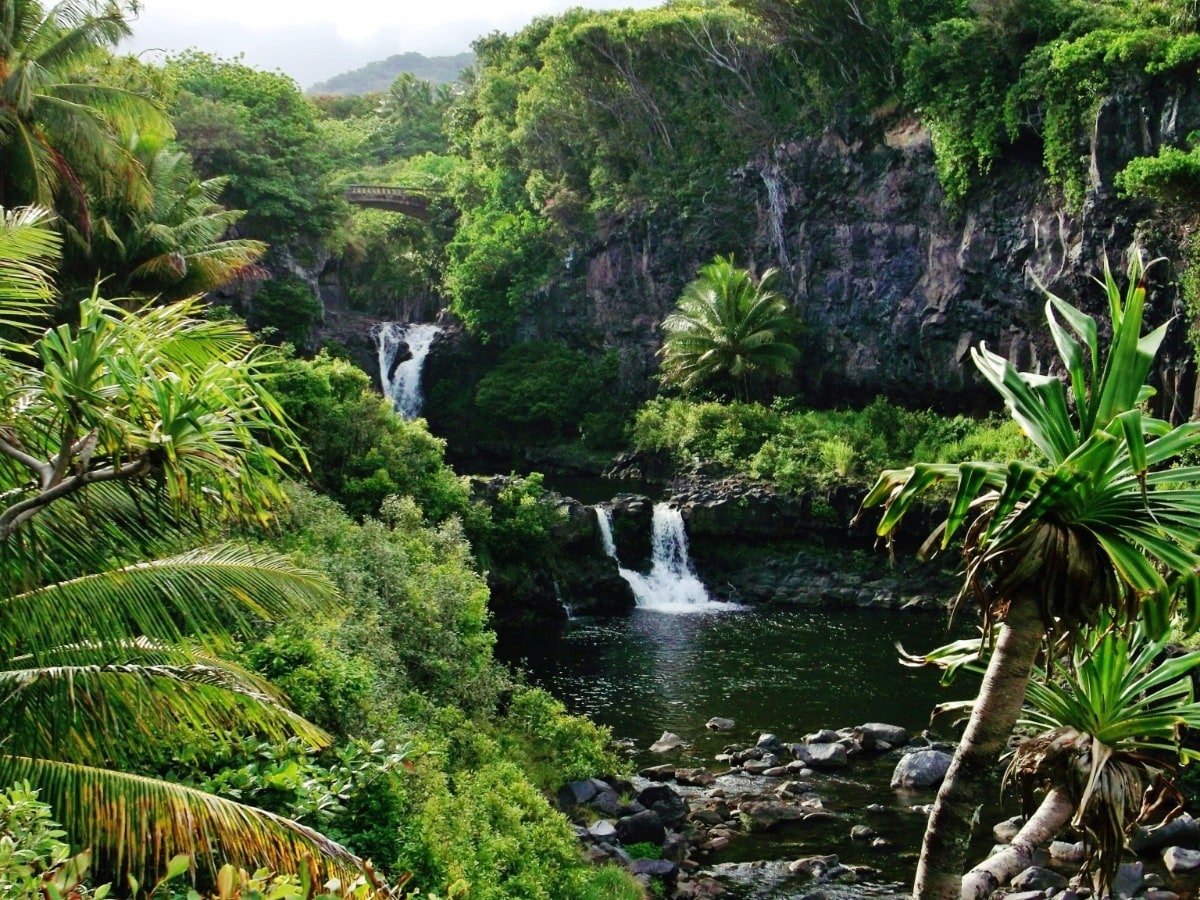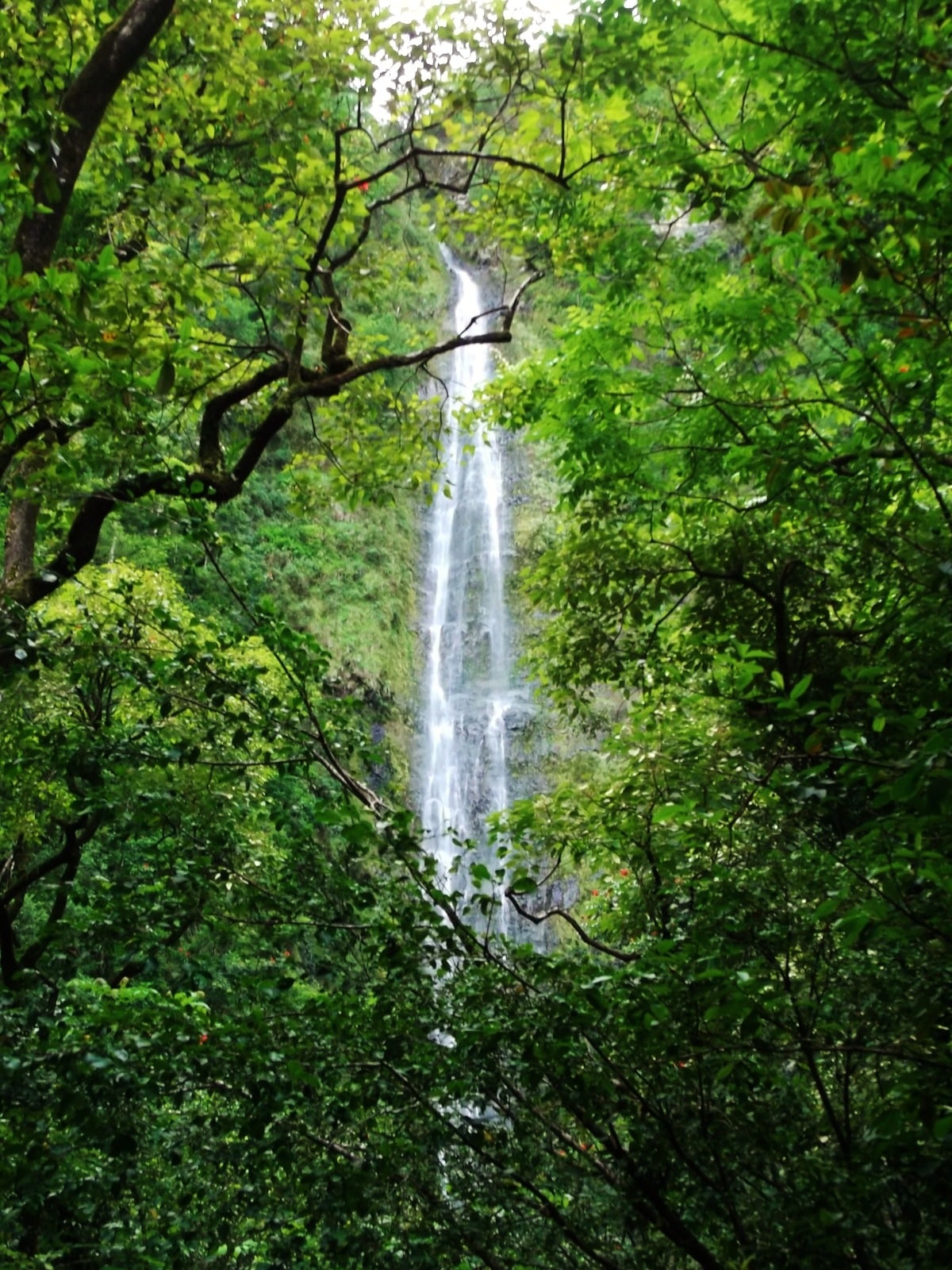 Along the trail we explored breathtaking overlooks, Tarzan vines reaching far up into the canopy, a deep, dark bamboo forest, and finally reaching a wide pool beneath the 400 foot Waimoku falls. The approach to the waterfall requires crossing a stream several times but aside from potentially heavy rains or flooding conditions it is a fairly shallow stream and a delicate waterfall. The pool at its base is strewen with boulders though, giving evidence to the instability of Hawaii's volcanic terrain.

When we came upon this banyan tree me and my kids gasped and had to step back to get a good look. It sprawls much wider than it looks here, and there is no room to back up enough to take it all in. I had to use three separate shots - as you can tell from the scallops - to get as much as I could.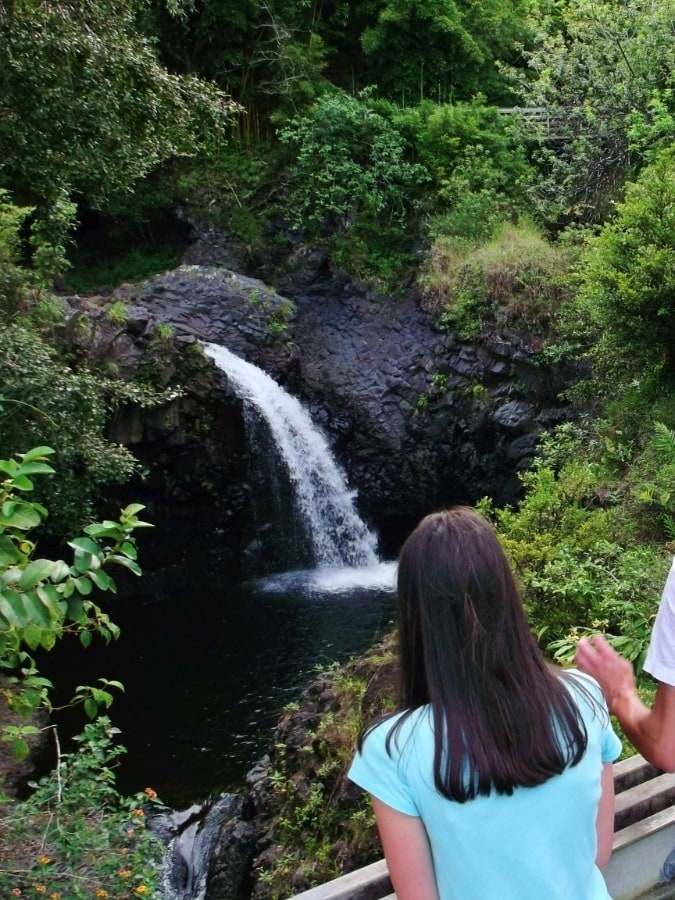 Maybe because I have grown up on beaches I feel drawn to moving water. Like a moth to a campfire I am mesmerised by its sight, its sounds and its negative ions! When I came upon these little pools they were such a contrast to the large pools at the trailhead, the enormity of the banyan tree we passed earlier and the grandeur of the bamboo forest we were about to enter. I began taking shots and soon my trail partners were ready to continue on down the trail, but I wasn't done. I felt those pools pulling me in. I had not yet captured what I knew was there, somewhere just beyond my awareness. It's often a real struggle for me to capture in a two dimensional image everything about a scene that mesmerises me.
My reward was to come as I searched from more perspectives, now all by myself. With less distractions the peacefulness of that little corner of paradise quieted all the noise that often occupies my mind, and helped me see unencumbered. I do believe that when I leave behind the constant commotion of life, and listen for that still, small voice present in all of us and in all God's creations, then I can find newness in common things, and see them perhaps as a new babe sees its world, or maybe just its fist... for the first time. I see with that sixth sense, the sense of wonder.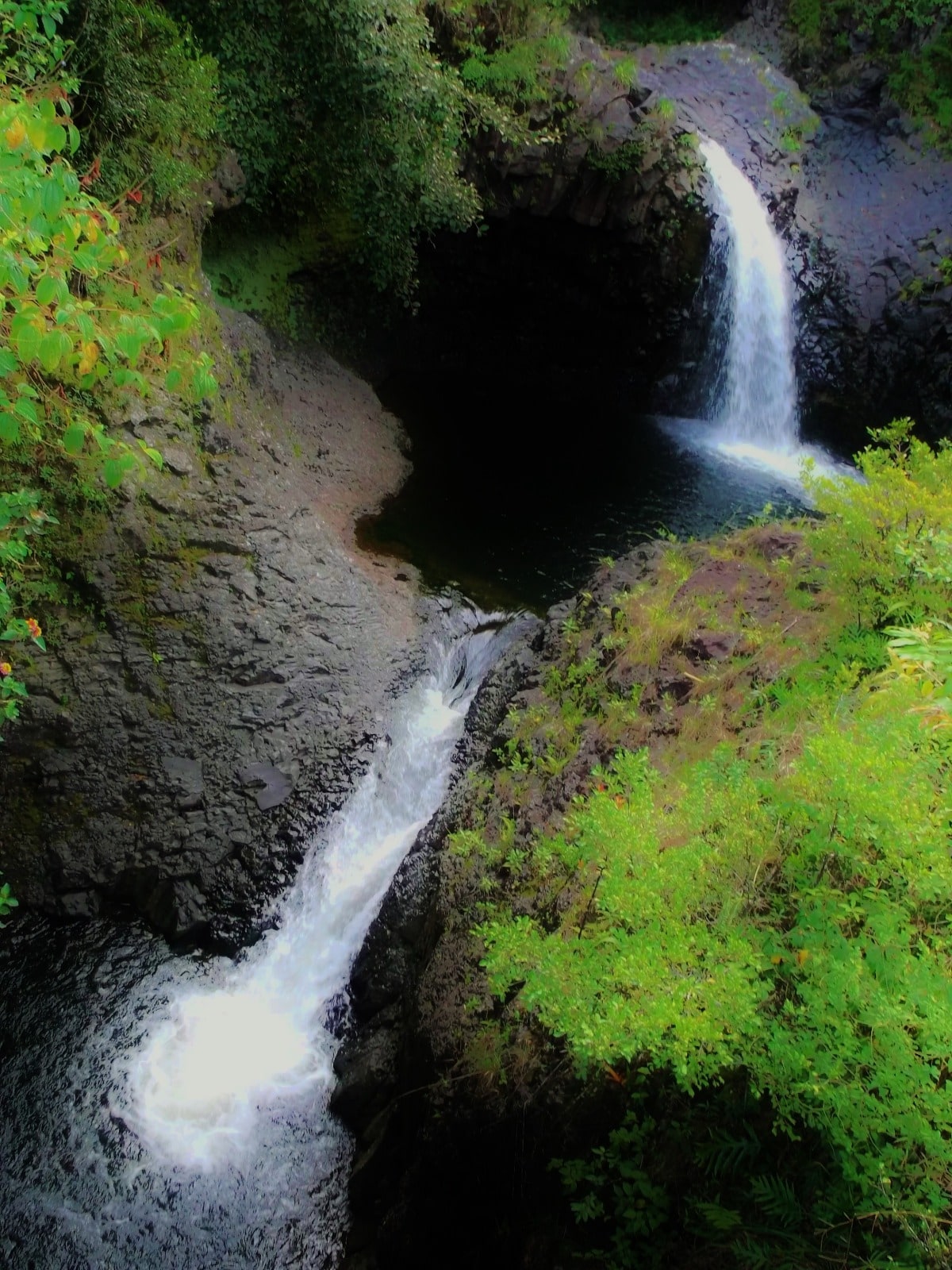 For a few moments this fairy-tale garden of Eden held me, imparting its peacefullness until I recognized and appreciated the gift.
Fun story
about my very first trip to Hana
My family lived on the beach in Maui for a couple of years when I was a small boy while my dad was selling cemetery plots for Maui Memorial Park. He drove a "66 Thunderbird with sequential tail light blinkers that flashed from the center outward in unique T-bird fashion. Coolest tail lights in their day!
I remember driving in that car on the road to Hana and catching up to a line of tail lights behind a big flatbed truck loaded with a bulldozer. The Hana Highway is notorious for really tight switchbacks, many of which can only pass one car at a time. Well this long flatbed truck was barely squeezing around a lot of those turns, until it got stuck going around a particularly sharp one. He couldn't go forward so he tried to back up, then forward again and continued until he was really good and stuck! The line of cars in front of us, and a now longer line behind us were all stopped dead wondering what we were going to do.

As we sat there pondering our predicament, the truck driver got out of his rig, climbed up on the flatbed and into the bulldozer. We watched as he backed the dozer off the flatbed onto the road and proceeded to lift the back end of the truck with its front end blade and move it over as far as he could. My excitement grew as he then got back in the truck, drove ahead a few feet as far as he could, got out and back on the dozer to repeat the process over and over, several times until he had jockyed his truck and buldozer around the turn far enough to drive out and continue down the road. That experience is forever fixed in my memory!
With 617 switchbacks and 56 one lane bridges along those turns, the balance of miles we traveled behind that flatbed truck felt like a roller coaster of emotions on the approach to every corner, anxiously watching to see what would happen! It was a long drawn-out trip and a bit of hell on the road for my dad driving us to the heaven that is Hana. Thankfully that bulldozer sat strapped to the deck of the flatbed for the rest of the journey.