MULTNOMAH FALLS
This is the tallest waterfall in Oregon at 620 feet. According to the U.S. Forest Service it is the second largest year-round waterfall in the United States. Underground springs are the year-round source of water along with snowmelt and rainwater in season.
A foot trail leads to the Benson Footbridge that crosses above the lower cascade. The footbridge is named for Simon Benson who financed the bridge's construction in 1914 by Italian stonemasons.
This gorgeous part of the Columbia River Gorge is so popular that one could rarely get a photograph of it without throngs of sightseers crowding the bridge, as you can see here. My son took the shot at the top of this page of me with my wife and daughter in August 2012, with summer crowds all over the bridge. But where are they you ask? They are all there, under a layer of paint ... Microsoft Paint. I only had very rudimentary photo processing software then and had recently watched a YouTube video of how to paint the Mona Lisa with Microsoft's Paint program. I was amazed at how accurate a reproduction was possible using simple tools, and understanding traditional retouching techniques which I had used for years on my traditional paper prints. Once I learned to control the program's color picker and brushes I was off and running, excited at the creative potential this might unleash!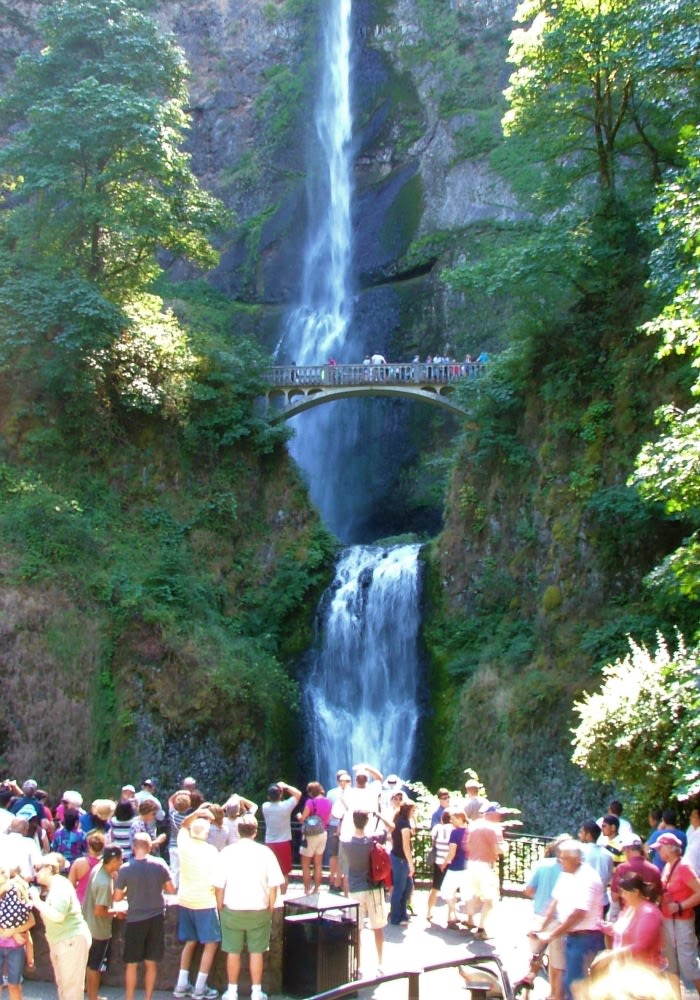 Well, it turned out to be super tedious, not unlike using retouching inks on a paper print. I experimented on my digital images and got fairly good at hiding ugly or distracting things, like all those bothersome people on that bridge. (If you look closely though, you can find some ghostly remnants!) But unlike print retouching inks that can fade or discolor with age, these hidden bodies shouldn't come back to haunt me! Now, I rarely use that technique anymore because I've discovered faster ways to manipulate an image, however I've recently tried "painting" over my images again to breathe new life into a lost cause (see photo blog post, "Mokulua in Stormy Seas"), and I am fancying the idea of honing the technique to create a hybrid branch of my artistic pursuits…