MOKULUA IN STORMY SEAS
The Mokulua or Twin Islands as we knew them as kids in Kailua are two of the many islands dotting the coast where I grew up. I have spent many days spearfishing, diving and exploring around these two islands in particular, and lately I have been very interested in capturing images that keep those memories alive. Those desires have only intensified as my plans to leave Kailua draw near.
When tradewinds bring an ever changing cloud cover and the sun breaks through, the scenery surrounding these islands can be stunning! I often find myself on the beach wishing I had my camera with me. So this day I came with my camera ready for some drama. The weather conditions looked favorable, and I expected to bring home a decent catch. Well, I captured the beginning of what I thought would evolve into somethinng more dramatic, however the sun managd to squeak through just enough to shine a little backlight on the wind whipped white caps. I had hoped for more, but I felt there was enouugh moodiness in that bit of backlight to work with.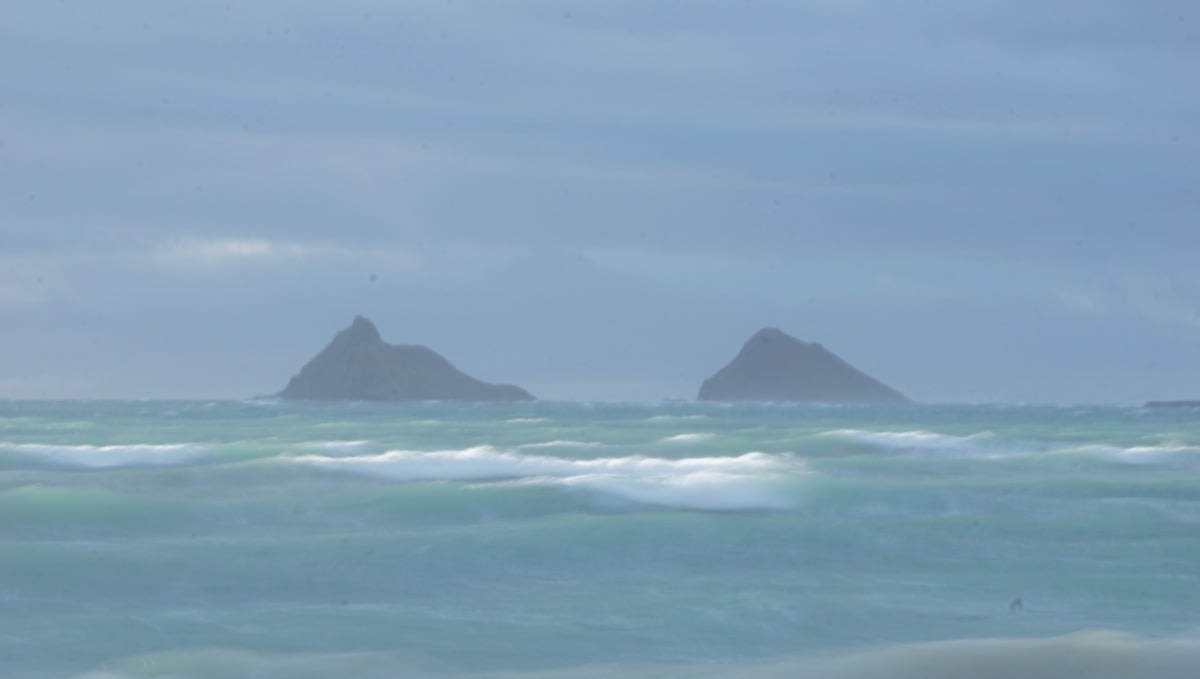 Then back home viewing the images I was sorely dissappointed! I had somehow messed up the exposures big time! They were soft, flat and pretty sad as you can see from the original image above.
However, the mood I had felt in real time was still lingering in my memory, and I was slightly encouraged that the image still had the main element of light on the waves that created that mood. I wanted to find a way to recreate what I had felt, and maybe add a little drama of my own making..
So, experimenting with filters, masking techniques, and digitally painting over the image, I created many different versions, even dropping in some wave action from a sister photo, and coaxed the sun out from behind those clouds. It may not look quite like a photograph anymore, but it does come much closer to capturing the impression I desired (photo at top). I guess that's what some call art!